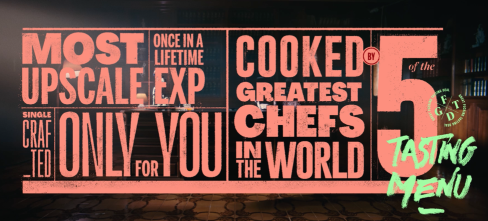 THE OFFER
In 2021 our lawyer asked Robert de Niro to promote Madrid Fusión Alimentos de España internationally, in exchange for an unrepeatable dinner cooked by five of the planet's leading chefs.
El video fue ideado por Leo Barnett y producido por Attic Films.
HE SAID "YES"
"Of course I'm in", said the American actor and winner of two Oscars, in a video after learning of the challenge on social media.
5 UNIVERSAL CHEFS
Mauro Colagreco, Joan Roca, Quique Dacosta, Martín Berasategui and José Andrés , accounting for a total of 25 Michelin stars, will be cooking the dinner, of incalculable value, for an exceptional guest.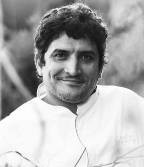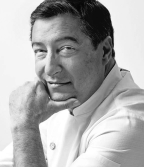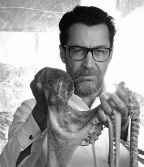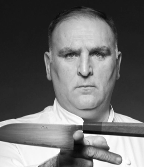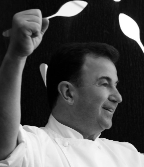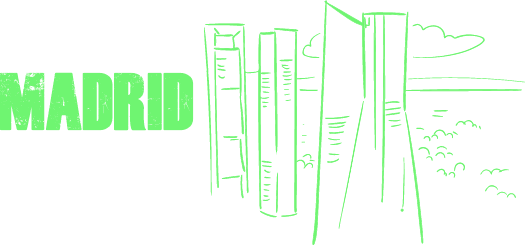 MARCH 2022 | MADRID
De Niro, who is also a businessman with catering outlets all over the world, will be in Madrid on 1 March for his priceless meal at a venue that is also unique: the royal suite at the Hotel Mandarín Oriental Ritz.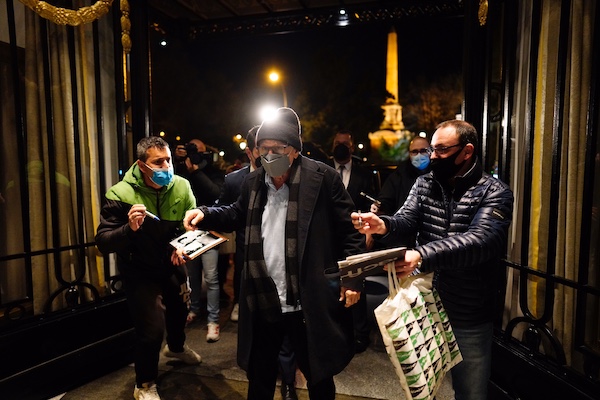 ALL THE DETAILS
This meal is a
huge challenge
for the five chefs, who have come up with a menu of
their own iconic recipes
with a nod to the seasonal produce typical of their cooking. It is sure to be
a unique, unrepeatable dinner
.
APPETIZERS
Iberian Ham 5J 2018
Olavidia. Quesería Quesos y Besos. World Best Cheese 2021, World Cheese Awards
Panem bread
Dom Pérignon Plenitud 2, 2003
Pinot Noir, Chardonnay y Pinot Meunier
A.O.C Champagne
STARTERS
Quique Dacosta
"Salazones" salting by time and air
Dry tomato
González Byass Viña AB,
Estrella de los Mares Palomino
Fino D.O Jerez-Xerez-Sherry
MAIN COURSES
Joan Roca
Viennette of white asparagus and truffle
Mauro Colagreco
Beetroot with Osciètre Caviar sauce
Martín Berasategui
Caramelized millefeuilles of smoked eel, foie gras, spring onion and green apple
López de Heredia Viña Tondonia
Blanco Gran Reserva 1964
Viura y malvasía
D.O.Ca Rioja
José Andrés
Strawberries with cream and sea urchin
Quique Dacosta
Dénia Red Prawn boiled in sea water
Joan Roca
A whole prawn. Prawn marinated with rice vinager, head juice, crispy prawn and seaweed velouté
José Andrés
Smoked elvers with tear peas and soy crackling
Martín Berasategui
My version of hake loin with kokotxas, coffee emulsion and scales of paprika
Quique Dacosta
Ash Rice with black truffle from Maestrazgo - Senia variety
Vega-Sicilia Único 1989
Tinto Fino y Cabernet Sauvignon
D.O Ribera del Duero
DESSERTS
Mauro Colagreco
Joan Roca
Milk dessert. Milk caramel, sheep's milk ice cream, sheep's milk curd-cheese foam, sheep's milk yoghurt and milk cloud
Noé. Pedro Ximénez VORS de
González Byass
THE EXPERIENCE RECOUNTED BY THOSE WHO WERE THERE

#CELEBRACIÓN #SORPRESAS #GRANCARTEL #DESCUENTOS #FUTURO