News
The closeness of remoteness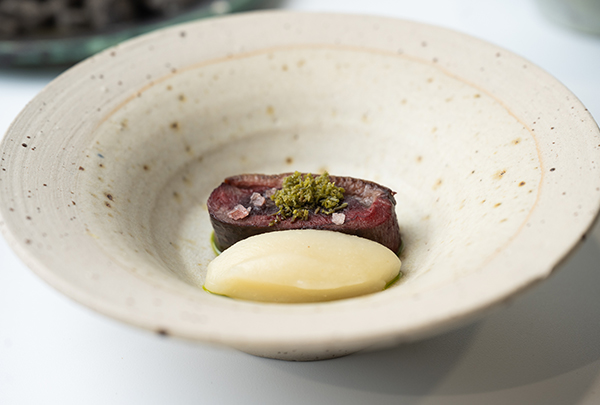 Natural and not at all sophisticated, in the Faroe Islands and Greenland Poul Andrias Ziska runs the world's most remote restaurant with two Michelin stars.
They are 18 small islands out in the Atlantic, between Iceland, Norway and Scotland. This was where Poul Andrias Ziska was born, and where he works as chef of the Koks restaurant, the world's most isolated, with two Michelin stars. It is located in Tórshavn, but Ziska decided to move out even further and spend two summers in Ilimanag (Greenland), at a location with a population of barely 40, while a new outlet was being built in the Faroe Islands.
This makes Koks one of the most isolated locations on the planet, a wild landscape flooding his kitchen. Two hours away from Denmark by plane, the location has a unique gastronomy which uses everything nature has to offer. It has nine tables, with space for twelve people to dine on a sampling menu with between 17 and 20 dishes.
Ziska cooked three recipes at Madrid Fusión Alimentos de España: earth, sea and sky. First up was an offering of vegetables, algae and clams, which arrive on the table ten minutes after they have been fished out of the water, presented in their shells. A unique delicacy, because in some cases, according to the chef, the clams may be up to 500 years old.
The second offering is a fowl known as 'gamet', which is only hunted in the islands and in Scotland, and only one day a year. Only the youngest are used, and hunters have to abseil down the cliffs and risk their lives, "proving how difficult it was to find food back in the day".
The third dish is an example of fermentation, a vital technique in an environment making use of whales and lamb. And what Ziska presented was lamb fermented in a stone and wood cabin. No curing or smoking. The meat is hung up and left out at the mercy of the bitter Arctic elements for two months. "It has a very strong smell before it's roasted", says the chef, who used the lamb's intestines and a fermented fish presented on a bed of potato with a sauce of blue cheese and grated fish.
In a wild environment, with no lights, no cars or people, "you have to trust us more than you trust the food". "We want to arouse people's emotions and surprise them", says Ziska. And diners have to travel to his Greenland outlet by helicopter. In the Faroe Islands, a 4x4 is required to get to a modest cabin with some amazing scenery.
The chef who came in from the cold took the Nordic Countries' Michelin Young Chef Award in 2019, aged only 29. He worked and learned the trade at the three-star Star Geranium (Denmark) and the two-star Mugaritz (Spain).
In a bid to represent the unique identity of the Faroe Islands through his cooking, he and his team - also natives of the islands - opened Koks, a restaurant fully integrated in the environment with culinary fare based on local ingredients, particularly sea produce, which won it the French guide's two stars.
Magazine