News
Madrid Fusión Alimentos de España surpasses its own limits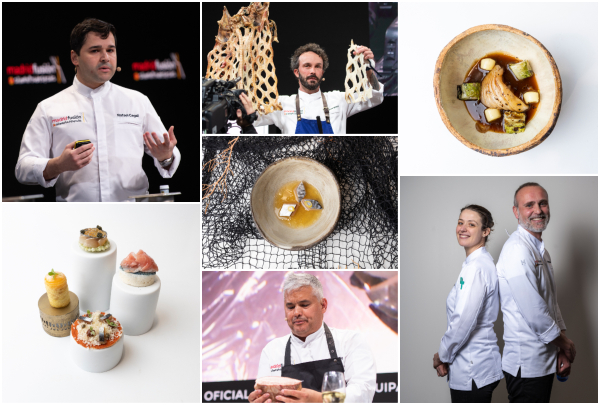 The world's most influential gastronomy summit is a record-breaker yet again this year, with 21,106 visitors (up by 25% against 2022), more congress-goers (1,771, plus 708 young catering school students) and more journalists (1,216).

Madrid Fusión Alimentos de España continues to expand, and closed down its 21st congress with the best figures ever. This year the challenge - comfortably surpassed - was a return to the usual January schedule after the calendar changes caused to the previous two events by the pandemic. The world's most influential gastronomy summit also observes that the sector is flourishing more than ever, and still has the ability to create enthusiasm and surprise. After three long days of continuous knowledge exchange, Madrid Fusión has demonstrated its inexhaustible ability to assemble chefs and gastronomy businesses, and also to bring together the world of wine, pastrymaking and breadmaking. The figures speak for themselves. Madrid Fusión 2023 surpasses its own limits: 21,106 visitors (up by 25% against 2022), more congress-goers (1,771, plus 708 young catering school students) and more journalists (1,216).

Droves of young people
The figures show that gastronomy has a future, a fact that was tangible in the corridors and auditoriums of IFEMA's Pavilion 14 over the past three days, with droves of young people (more than 700 students from Catering Schools all over Spain at this year's event), the future generation of floor and kitchen staff, and also on stage at this congress which Dabiz Muñoz defined in his talk on Tuesday as "a world benchmark that has set a trend, a real precedent".
Knowledge exchange
But it was not only the figures achieved by Madrid Fusión Alimentos de España which were exceptional this year, because all the ideas proffered on stage were also most enriching. We observed the overwhelming creativity o
f Dabiz Muñoz, or the tenacity and audacity of those who turned into Robinson Crusoes on some very personal projects in the more remote confines of the planet, such as Poul Andrias Ziska, Nicolai Tram and Virgilio Martínez and Pía León. But we also saw that sustainability is still a theme for discussion, with the extreme leverage demonstrated by Ricard Camarena's products, Quique Dacosta's need for beauty, and the transformational capacity of gastronomy in this environment, natural but also human.
And so Madrid Fusión Alimentos de España closes down a congress that has proved itself able to combine some very different ingredients - from the Mediterranean to the Arctic, from the Pyrenees to the Andes, the traditional and the hugely modern - and produce a fascinating harmony all the same. Some very different larders, trajectories and ways of understanding cookery. A permanent exchange of wisdom and ideas.

Last day
On the last day, Mexican chef Edgar Núñez spoke out for vegetable cuisine while making a stand for a combination of Mexican and Spanish gastronomy. "We are two worlds that have come together. Mexico was never a colony, just part of the kingdom of Spain, and that helped in the exchange of cultures", said Núñez as he began work on five recipes with "mole" sauces. The moles were a range of vegetable varieties: carrot, pumpkin, pine seeds, and some algae variations they are test-driving. Even with fruit, "like they do around Veracruz". He finished off the demonstration with his favourite, black almond, to which he added fungus and presented with fermented tomatoes.
Rodrigo de la Calle and Diana Díaz, his head chef at El Invernadero* (Madrid), proved that a love of vegetables is contagious. Or perhaps that it can be transplanted. The second-in-command took over as chef on stage with the help of her maestro to demonstrate the creative symbiosis they employ to extol the vegetable world through a considerable amount of research, and most especially, as Diana remarked, with "method, control and order".
The vegetable world was also discussed by Álvaro Salazar and María Cano (Voro**, Majorca), who showed off the first ten items on the menu that turns us into herbivores, but carnivores and piscivores too.
Food from the sea versus food from the river
Fish were also the main theme during a number of talks on the last day of Madrid Fusión Alimentos de España. "We use our cooking to explain not only a territory, but also a way of life". This from Aitor Arregi (Elkano*, Getaria) at the beginning of his session: the subject was supposed to be cookery, but it also included culture, a culture which in many cases is disappearing. And so Arregi and Pablo Vicari, his colleague in Cataria (Chiclana de la Frontera), were keen to make a stand for those working in the fishing sector, alongside their fishermen in Getaria and Cádiz on stage.
Iván Domínguez, chef at Nado (A Coruña), explained why salt has become essential to his cuisine. He works with this ingredient provided by sea water to "modify textures, from raw produce to boost its firmness, strength and taste", availing himself of simple techniques known to one and all as "curing, desalting and cooking". The product as the star attraction, less technical, more tranquil and more mature.
And from the sea to the river with Portuguese chef Rodrigo Castelo, who works at Ó Balcão, a tavern in Santarem an hour away from Lisbon on the banks of the Tagus River, to "give all diners freshwater fish, even the most predatory of them". As is the case of the sheatfish, which "was made part of recreational fishing by man. It is important for us to eat the predators in order to retain native river fish", said Castelo, before presenting this giant specimen cooked like cod: at low temperature, in pil-pil sauce, chickpeas and a "massa à barrão" sauce.
The last day of the 21st Madrid Fusión congress also featured the Italian chef now living in London, Rafael Cagali (Da Terra**), with his recipes with heavy hints of Italian inspiration, using typical Brazilian ingredients; Nandu Jubany (Can Jubany*), demonstrating his wealth of culinary experience with truffles; and Miguel Cobo (Cobo Evolución*), with a project emulating what our ancestors used to eat, assisted by Professor Juan Carlos Díez.
A Madrid Fusión Pastry with less sugar and fat
Today the pastry greats were present at the 2nd Madrid Fusión Pastry, including national and international personalities. Such as Antonio Bachour (Bachour, Miami, USA), the best pastry chef on the planet, who has moved with the times to reduce half the sugar and fat in his creations, "simple, delicious and healthy", and add in more vegetables, such as the beetroot he showcooked at the event.
Eric Ortuño (L'Atelier, Barcelona) was on hand to reveal the secrets of the best artisan chocolate panettone in Spain. He uses starter dough matured for a year, and three days of fermentation to produce a tender rich texture, with 40% cocoa milk chocolate drops.
Another typical dessert, a national product in this case, is the "turron" nougat which was the main theme of the talk by David Gil, head of Innovation at I+Desserts, who applies revolutionary techniques to the turrón universe. He does so starting with the mould, shunning traditional slabs, seeking new textures, and presenting the product in ground-breaking packaging. He makes his own coffee, hibiscus and raspberry chocolates, "so as the taste is not lost", and uses them for coconut turrón with curry, yuzu pulp, green tea or mint.
The chocolate touch was furnished by Lluc Crusellas (Carme Pastisseria, Barcelona). "You have to preserve tradition and go further with technology to find the limits", said the chocolate sculptor who can print out sweetness in 3D.
Fruit from Lleida took over the discussions during the talk by Joel Castanyé, chef at La Boscana* (Lleida). "Our challenge is to make the very best fruit can offer part of haute cuisine", says Castanyé, who combines science with fruit. He has fulfilled his dream of an R+D lab, to which he dedicates body and soul in January and February, and which produces combinations such as scallop and "paraguayo" fruit in peach pit ice cream. He dehydrates all types of fruit, cooks them, roasts, fries, brazes, spherifies them, blends them or breaks them down into powder or essence.
And as of today, Javier Rivero and Gorka Rico from the Ama Taberna restaurant (Tolosa, Guipúzcoa) are Madrid Fusión Alimentos de España's new Revelation Chefs, an award they collected alongside the Sevilla-born Japanese lady Noelia Tomoshige, declared Revelation Pastrymaker with a dessert called 'Furusato', a Japanese word meaning place of origin, the main components of which are 'sudachi', an Asian citrus largely unknown in Spain, and Andalusian chestnut honey.

Magazine