News
International views and local flavours dominate on the final day of The Wine Edition Wines from Spain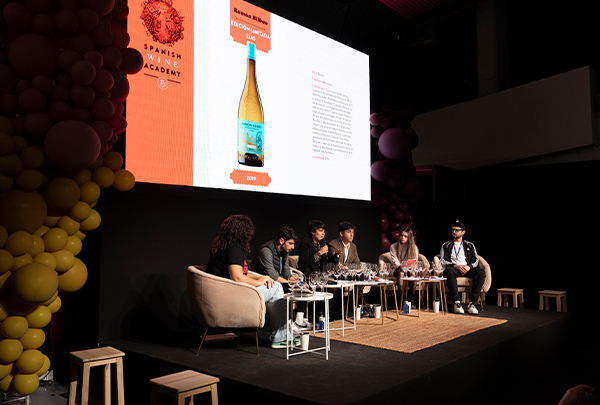 Paz Levinson, executive sommelier of Anne-Sophie Pic in Valence, France delivered a Top Tasting presentation with the synergies between Spain and Argentina at heart
On the final day of The Wine Edition Wines from Spain 2023, sommeliers, chefs and wine experts came together at the IFEMA Exhibition Centre in Madrid to celebrate a range of aspects of the global world of wine.
This third year of The Wine Edition Wines from Spain, hosted by the most important gastronomic congress in the world, Madrid Fusión Alimentos de España, now in its 21st year, has offered a busy programme of talks, tastings and learning sessions.
A congress with a firm focus on the world of wine and a stated purpose to uncover new trends and talents while providing a forum for discussion and learnings from a sector that is integral to gastronomy and culture around the world.
Executive sommelier Paz Levinson from Anne-Sophie Pic*** in France, kicked off the day with a blind tasting. Focusing on the synergies between wine producers in Spain and Argentina, Levinson spoke about the winemakers who had made the journey to Spain from Argentina for the sole purpose of making wine.
"There are many unifiers between Argentina and Spain and Argentina and France, it makes sense. Hopefully one day the reverse will happen and the Spanish will travel to Argentina to make wine," she said.
In her session "The same hands, two universes: unifying restless minds, journey, lives and wines", she offered a tasting of a selection of Argentine and Spanish wines, outlining the qualities of each of them throughout an engaging session.
Having learned her trade and started her career in her home country, she has continued to work closely with the wine producers of her home country. "Leaving Argentina has ironically made me closer to my country and the producers I have worked with. I speak to them almost daily."
In another interactive tasting session, Master of Wine Almudena Alberca presented a selection of 8 wines in her presentation "How does a Master of Wine taste?"
Offering a fascinating insight into the punishing studying schedule that goes into achieving Master of Wine status – only 10% of those who start the process achieve the certification – Alberca shared details of the learning process it takes to complete the qualification.
Applying the same process as in a Master of Wine exam, Alberca, with the assistance of Ferran Centelles, former Sommelier at ElBulli, led the interactive tasting of a selection of wines.
"When you take the exam, you should prepare as if you were an elite athlete. It is not just about knowledge of theory, you have to rest: if you are tired you don't taste well, if you have too much coffee, you overwhelm the palate. You really must focus on the elements that define the wine, the aroma, the colour, the consistency," she explained.
Visiting from Valencia, chef Begoña Rodrigo and sommelier Jorne Buurmeijer took the stage to share the story of their restaurant La Salita*, which they opened 18 years ago.
The presentation "Acidity and wine ageing and the Valencian garden" saw the two outline their approach to sourcing ingredients for their vegetable-forward menu in the immediate region of Valencia and the wines that accompany the food.
"I am one of those stranger chefs who really enjoy wine and I like to drink a lot of wine. I believe the wine we pour in the glass is as important as the food on the plate," said Rodrigo.
The two presented a pairing of three dishes and three glasses of Valencian wines as they explained the thinking process behind the pairing and why they worked well together. Just as Rodrigo's kitchen is about seasonal and sustainable ingredients, Buurmeijer has a strict criteria for selecting wines. "I only want wines that respect the environment in my cellar. No chemicals or anything bad. I only want those that are good for our environment," he said.
Completing this last day of The Wine Edition Wines from Spain, entrepreneur and Master Sommelier Xavier Rousset visited from London, UK, where he is the owner of seven restaurants and wine bars. The session "What does a Master Sommelier look for in a Spanish wine?" addressed everything from the difficulties of entering the English market to current trends and challenges.
In a conversation with Ferran Centelles, sommelier at ElBulli until its closure, he spoke openly about his approach to selecting wines for his restaurants and offered insights into the English wine market, with a focus on Spanish wines while presenting a tasting of five wines.
"There's a lot to love about the market in London. The public is very open minded, and they like to try new wines. If I put a wine from China or Bulgaria in front of them, they are keen to try them. It is also a difficult market; what is trendy today might not be trendy tomorrow."
He also offered words of advice to young sommeliers who want to progress in the profession. "You need to be curious, interested and humble. To be a Master Sommelier is a big commitment, and you need to learn, read, travel and meet people."
Madrid Fusión The Wine Edition Wines from Spain sits alongside the gastronomy congress and features its own major auditorium, hosting key speakers and events as well as an extensive area, playing host to tastings, exhibition space and smaller commercial showcases.
For more information about Madrid Fusión Alimentos de España and Madrid Fusión The Wine Edition Wines from Spain, visit www.madridfusion.net
Magazine