News
Dabiz Muñoz, the 'univerXo' continuing its expansion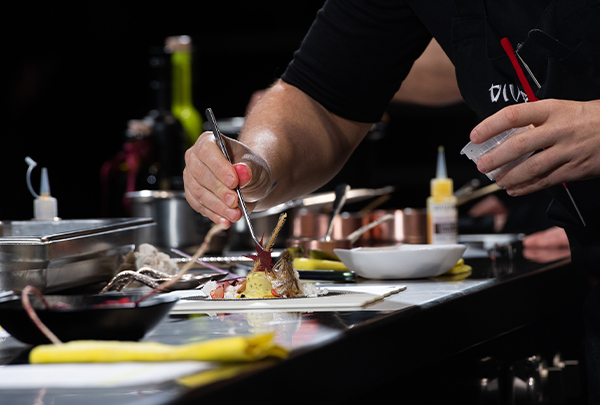 The 'enfant terrible' of Spanish cuisine again seduces congress-goers at the gastronomy summit with four recipes from his menu, featuring over 300 ingredients
'Cutting-edge or death' is the watchword of iconoclast Dabiz Muñoz, who again seduced the usual crowd and also newcomers at Madrid Fusión Alimentos de España with four recipes from his menu, featuring over 300 ingredients. He is the grand idol of the gastronomy summit, where he breaks down dogmas and barriers, an event he always returns to, cooking or talking. He had done no showcooking since 2014, but proved that his bright star is still shining. He is the creator of a gastronomic 'univerXo' which is also continuing its expansion, as demonstrated to a packed auditorium of enthusiastic congress-goers. "My recipes with no stories", he kept saying.
José Carlos Capel, president of Madrid Fusión, introduced this culinary sorcerer, claiming he had the "ability to shuffle recipes on a menu in the same way as Cortázar shuffles chapters of his novel 'Rayuela'." "Now his cooking is lighter, with more informal codes, but just as amazing as ever, across the entire gamut of sensations", added Capel.
Muñoz altered his programme five minutes before he went on stage. Instead of cooking one recipe from each of his businesses, as scheduled, he finally plumped for four recipes from the new menu at 'DiverXo', his sanctuary. "These recipes are self-conclusive and independent stories, and they can be swapped around on the shared menu. A menu is like an opera when it's hard to tell which instruments are being played at each point".
First up was the starter on the DiverXo menu, spinach cooked in a slotted wok, for an "intense metallic taste". The spinach comes from the Guetaria coast, it needs no salt, and he seasons it with Tahiti lime and mandarin, and spring onion and olive oil. He rounds this off with a vegetable snow of white asparagus and soya and flower salt. The garnish is caviar curd, "but the real luxury item is the spinach, whereas the caviar is residual", he pointed out. "My recipes are a Tower of Babel with a mixture of many items", he added.
He went on to cook Pyrenean trout, showing one of the leaflets he gives to each diner. This is known as 'Pyrenean ecosystem', and it was inspired by Tokyo restaurants serving up matured sushi, such as swordfish over 60 days, for example. "I want to pay tribute to that tradition with a Pyrenean focus", he said, explaining how he allows the trout to mature for 45 days. He presents it with a gnocci of rice, sake, soya and pickled chilis and crunchy rice couscous, toasted pine seeds, and rice vinegar. The trout is steamed and served lukewarm at around 20 degrees. With the trout belly on a pine, he adds fresh wasabi and river crab tails. He uses the head to make a "Pyrenean 'chupe' chowder' with baby orange and bitter orange, evaporated milk and grated trout.
The third dish was also a fish recipe. 'The ages of hake' contains three sizes and textures: "carioca", "pescadilla" and regular hake. He uses the roe to make a "bottarga" where the main feature is yellow chili and pink lemon, "a mixture of grapefruit, bergamot and lime, which fascinates me". He uses the heads to make "hake ash", and cures the bottarga over two to three weeks. He adds black garlic cubes, and decorates the plate with the spine of the smallest hake, along with hibiscus leaves. He adds the large hake's "kokotxa" neck in a simulation of butter.
Pot scrapings
The last recipe is a tribute to pot scrapings, "as a realistic representation of what happens when you eat what's left in the bottom of the stew pot". He cooks a Mos cockerel "with red flavouring and a lot of collagen, and combines it with Colunga beans. He cooks it at 88 degrees for nine and a half hours. It is served in the casserole dish with the deglazed scrapings, and steams the beans for twelve hours. He creates a cocoa mass at the base with innumerable spices. He uses buffalo butter to make a 'beurre blanc' from the beans. He condiments with chilis, "ancho" and "pasilla", baby orange and shoots of coriander, and adds maize in tortilla and Thai "crying tiger" sauce. This is accompanied by a flower salad, and he uses the animal's foot to make up a crackling.
"95% of our cooking today relates to Spanish produce. This comes from a lot of travelling", Muñoz says of a menu with hundreds of ingredients in between eleven and fourteen recipes. He has not made a proper count, but thinks there are more than 300. "I haven't been here since 2014, and it's a pleasure to be back at Madrid Fusión. We don't realise what a wonderful event we've had for the last 21 years. It's a world benchmark that has set a trend, a real precedent", said the man who is one of the leading lights of Spanish cookery. Consolidated with his DiverXo restaurant, which now has three Michelin stars, and the only outlet in the capital with the guide's top score, the chef continues his quest to create recipes and new concepts. In recent years he has added to his current StreetXo Madrid and the now defunct Streetxo in London, with Goxo Barcelona and a delivery service - Goxo - also diversified with a foodtruck.
Magazine